100+ Playgrounds in South Tyrol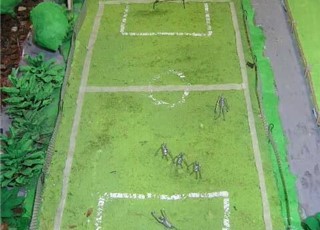 Advising
Consultant VKE offers a free first advising about playing areas for all those who might be interested (groups of parents, associations, schools, municipalities). Our experts gladly come to you for a site inspection and make a first suggestion for the design or rededign of the playing area in...
Financial help
Notes on the financial Help offered by the Autonomous Province Bolzano for the shaping of playgrounds and school grounds 1. National law of 16.10.90, Nr. 19 "Measures in favour of sports" Responsible State Office: office for sport - Provincial administration house number 1 - Crispi street 3...
Help, I don't have enough space to play!
Help!!! Dear Children, do you have problems with the place you play on? May it be a problem with yards, school grounds, playing grounds or whatever else: VKE is here to help! We are good experts, we have a big experience (only in South Tyrol, we have realised more than 450 projects) and we...
Legislation
Playing areas At a state level (ministerial decree of 2. April, 1968), 9 square meter per inhabitant is obligatory on public green areas for sport, playing and recreation. These must be included in the construction plan of the respective municipalities. The South Tyrolian provincial government...
Maintenance of playgrounds
Notes for the inspection and evaluation of playgrounds and equipment Summary according to the UNI-EN 1176 - part 7, completed by empirical values from the daily praxis Also the UNI EN 1176 (playground equipment - safety requirements) cannot be disturbed, which through the aging of the material and...
Recreational zone
The recreational zone - an alphabet Dustbin possibly with waste separation Furnishing with simple benches, pick-nick tables, tree logs for sitting, etc. Trees, shrubs, forrested terrain shadow, climbing, hiding games, adventure games Bicycle stands at the entrance area Fireplace walled grill...
The children friendly community
The children friendly community VKE distinguishes a community with an award each year (decisions of the VKE committee meetings of 8. February, 1993 and 16. April, 2007) 1. Name of the award The children friendly community 2. Criterias for the eventual award Outstanding and exemplary...
The natural playground
Essay of Günther Beltzig (referent at the South-Tyrolian Play Days 1992) What are playgrounds? Playgrounds are monocultural function areas where a certain, limited user group carries out a tightly defined, predetermined activity on a tightly deined small area, better if without causing any...
The playground
The playground - construction kit -dustbin (however, no garbage or glass container) -equipment benches, tables, pick-nick tables, lights on the main road -stream or artificial watercourse for splashing, building dams, putting small ships on the water, etc. -fortified pathes roads and places can...
The private courtyard
Definition - possibilities of use - judgement Definition: The courtyards are areas on the street level, without roof and without any building on it. In the notion of courtyard, both the ground and the air above it are included. If there are plants on the courtyard, the denomination is garden. From...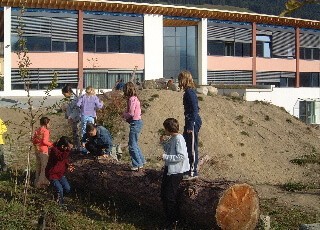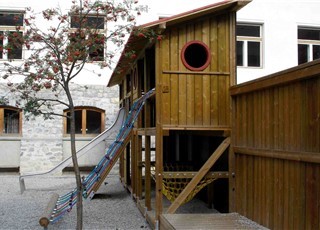 The school yard
The school yard - an alphabet Furnishing benches, tables, pick-nick tables, fence Fix all weather area With painted ground games; can also be used for riding a bike, roller-skting and as a skateboard field Plants huge shrubs for hiding, trees that give shades and - later - for climbing Areas...